Why use a dog grooming/bathing tub?
If you've ever had a dog and bathed it, you probably know it's not easy. You also probably know that dogs don't precisely enjoy shower time. To make matters worse, many people have found that even though their dogs don't particularly like bath time, they still need it—a lot of the time, more than once a month.
A dog grooming/bathing tub is immediately a natural solution for this problem because it makes the whole process so much easier for everyone involved. It provides support for your dog in an otherwise very unstable environment and gives you something to hold on to so you can control your dog while keeping your hands out of the water.
A dog grooming tub is helpful because it keeps your pet cleaner and safer than one who is being bathed outside of a tub. The water remains clean, and there is less danger that the dog will escape from the tub or get distracted and injure itself as you wash it.
Dogs enjoy rolling in mud and grass after a bath. A dog grooming/bathing tub keeps the water in to keep the dirt out. A dog bathing tub also helps ensure that your pet does not get dirty again when you are done bathing it. The hardest part of bathing your pet outdoors is getting all of the mud, dead leaves, or whatever else they roll in out of their fur before going back inside. Not to mention, dogs not bathed regularly have an unpleasant odor. A dog grooming/bathing tub allows you to keep your dog clean while keeping its fur smelling fresh.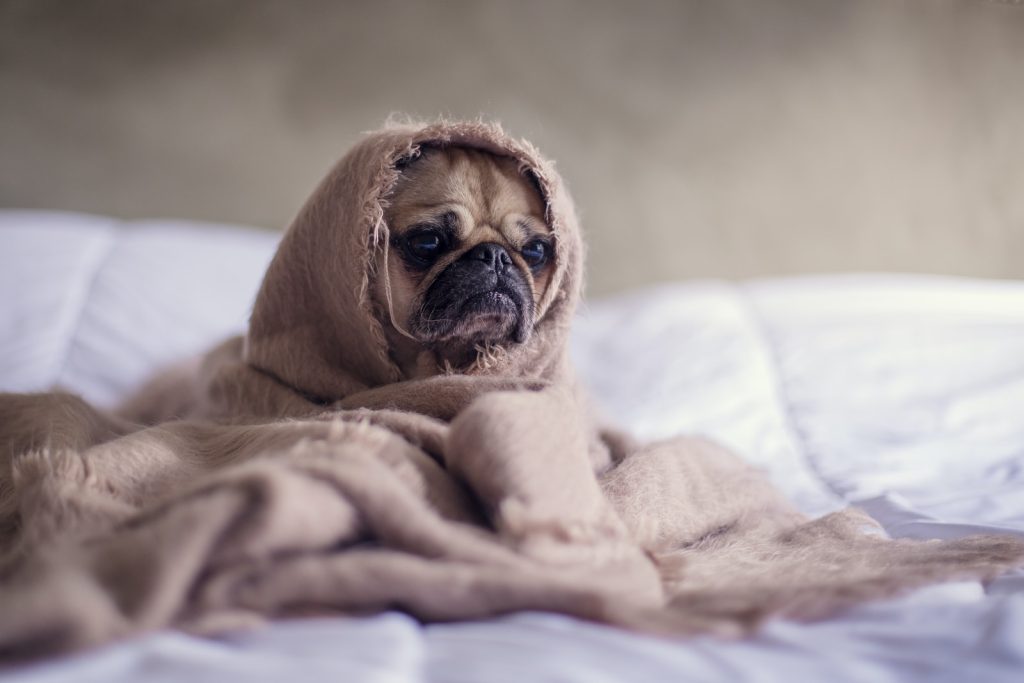 Dog grooming tubs types
When shopping for a dog grooming tub, the first thing to consider is the type of dog you want to bathe. For example, if you have a golden retriever, you will want to invest in a large dog grooming tub that comfortably accommodates a long body and ample fur. Similarly, if you have small dogs like pugs or chihuahuas, you will need to buy a smaller dog grooming tub that can accommodate the size of your pet. And, when choosing a dog grooming tub, always make sure it has adequate headroom (so your dog can stand up and move around) and that it comes with a drainage system (to catch the excess water from bathing).
Stainless steel dog grooming tubs
Stainless steel dog grooming tubs are famous for their durability and versatility. Some models can be used as a bathtub or a shower, while others are only bathtubs. Many models include detachable sprayers placed at different heights, which is great for washing dogs of any size or giving large dogs a deep cleaning. Nearly all models have drainage holes on the bottom so that water doesn't pool in the tub after bathing. A few also have removable bottoms for easy cleaning. Many choices are available in large and small sizes, suitable for home or professional grooming use.
Stainless steel tubs typically cost more than plastic ones, but they'll last longer. Stainless steel tubs are perfect if you have a long-haired dog or a dog that sheds a lot.
Plastic dog grooming tubs
Dog grooming tubs are generally shallow, wide, and often plastic. Some plastic tubs have built-in bathing nozzles, while others require that you attach your own. Plastic tubs are very lightweight, so they can be easily carried from room to room. Most come with a non-skid bottom to prevent slipping on hardwood floors or slippery tiles. You'll probably want a plastic tub if you have a dog with long hair or thick undercoats, as hair doesn't stick to its smooth surface.
Plastic dog grooming tubs are convenient for caring for your pet at home. Although they are not suitable for every dog, they can be fantastic for many.
Many people prefer to use a bathtub for bathing because it is easier to fill than a plastic tub and is more comfortable for the dog.
Fiberglass dog grooming tubs
Fiberglass dog grooming tubs are an excellent option for pet owners looking for a durable and easy-to-clean tub that will last for many years. These tubs are made from 100% fiberglass and have a high gloss surface, making them easy to clean. Fiberglass is a very versatile material and is resistant to rust, most chemicals, and even bacteria, making these tubs very easy to maintain.
Fiberglass is the material of choice for dog grooming because it's lightweight but also sturdy, making it easier on both the groomer and the dog.
Portable dog grooming tubs
A portable dog grooming tub is an excellent investment for pet owners who want to perform at-home grooming. Dog groomers use portable dog grooming tubs and bathtubs to wash, rinse, and dry dogs in one convenient location. A portable dog grooming tub is also a great space saver because the tub can be placed anywhere in the home that has an electrical outlet and good water drainage.
Portable dog grooming tubs are your best choice if you need a tub on the go.
A portable dog grooming tub is a portable bathtub used to bathe small dogs and other small animals like cats, ferrets, and rabbits. Although most portable dog grooming tubs aren't large enough for larger breeds of dogs like Labradors or German Shepherds, they work well for smaller pets like poodles and dachshunds. They are also used by breeders who need to bathe their dogs but can't take them home because they live in kennels or crowded apartments with no room for bathing facilities.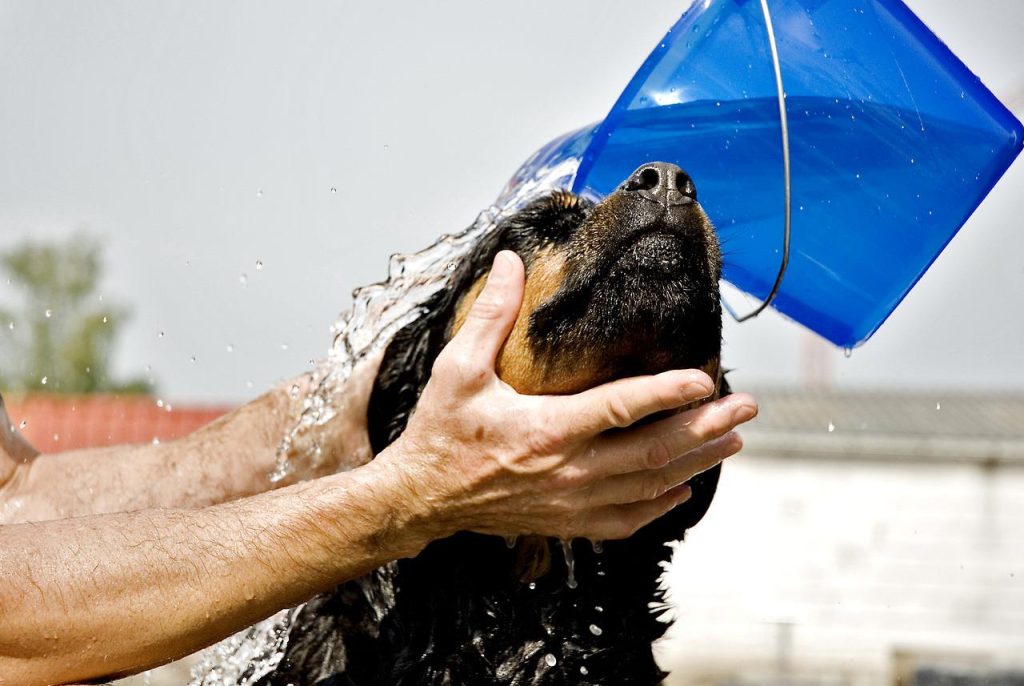 Dog grooming tub characteristics
Groomers need to consider the types of animals they bathe to find the right tub. For instance, huge dogs may require a tub with dimensions more extensive than those designed for smaller breeds. Grooming tubs should also be deep enough to accommodate an animal's height when standing upright.
A tub with multiple functions will be more valuable than one dedicated solely to bathing or grooming pets. Many separate pieces can also be more expensive than one multipurpose unit. Also, keep in mind how many animals you intend to bathe.
Dog grooming tubs vary in size, depth, and angle. These factors all play a role in the care of your dog, including its size and breed. Most dogs are groomed at home, so do you want a large tub to fit your pet or small enough to be easily stored? It will also depend on the amount of space available for your grooming needs.
Dog grooming tub shape
Dog grooming tub shape is an important consideration when purchasing a tub for your pet. The tub must fit the dog while they are inside it and should be easy to move around, especially if you want to be able to bring it in and out of your house as needed.
Dog grooming tub shape is a critical factor in choosing the right tub. The tub's shape determines how well you can reach your dog's body and clean all parts. There are three different shapes of tubs: rectangular, oval, and round. Each type of dog grooming tub has its advantages and disadvantages.
Dog grooming tub size
The dog grooming tub size should fit the dog. The standard tub is too small for some dogs. If you have a 60-pound dog, the standard tub is too small. Don't force your dog into it. Choose a larger tub.
The dog grooming tub size you choose will depend on the size of your dog and the number of dogs that need to be bathed at any one time. If you bathe different breeds in one tub, you should also consider their size differences. You may want to consider a tub with a removable insert so that the bathing area remains significant, even if it's not in use. A collapsible model is also a good choice for easy storage when not in use.
Dog grooming tubs are commonly sized in two dimensions: length and width. However, these measurements can be misleading. A tub will appear more significant if it's deep rather than wide, so the size you'll want to pay attention to is sometimes called "internal length," which is simply the distance from the front of one side of the tub to the other side. Most tubs have an internal width between 24″ and 48″, and an internal length between 32″ and 72″.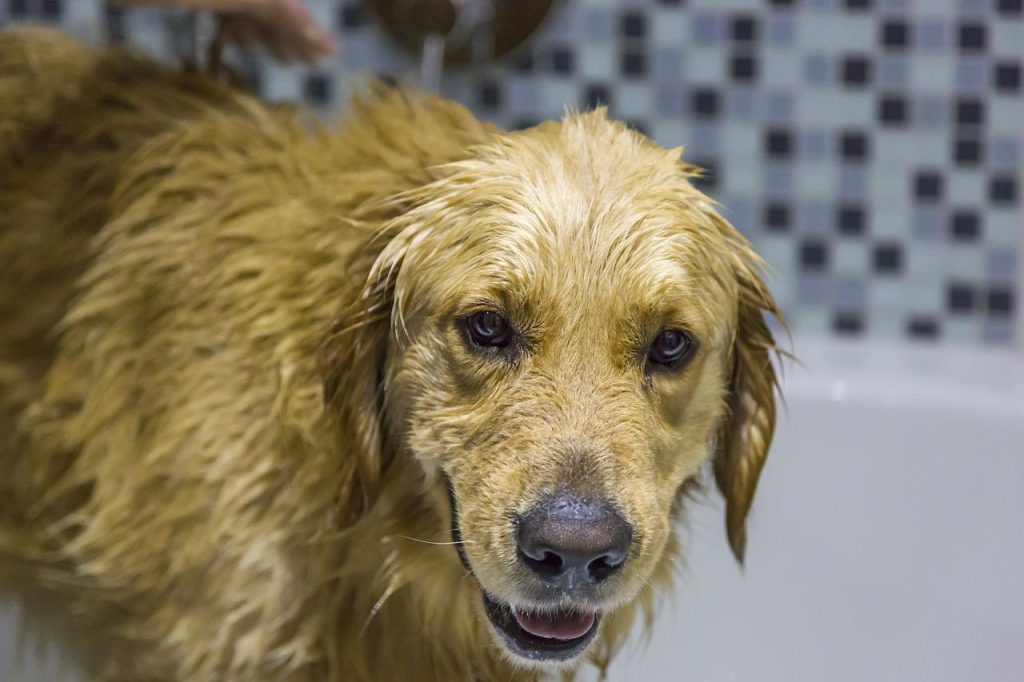 Dog grooming tub features
Dog grooming tubs are the best way to keep your dog looking its best. Here's a list of features to look for when you're getting a new tub:
made of a durable, waterproof material;
non-slip bottom;
rubber grips on handles;
stable base with non-skid feet;
provide a floor drain to keep water contained;
clean easily and able to be sanitized;
has different layers for drying, washing, and storing;
Grooming tubs price range
The price range of dog grooming tubs is based on the size of the tub, its features, and the materials used. The majority of dog grooming tubs will fall into one of three price categories: low-end, mid-range, or high-end.
Low-end dog grooming tubs typically cost less than $100 and are usually made from plastic.
Mid-range dog grooming tubs are usually made from hard plastic or a rubberized material and cost between $100 and $500.
High-end dog grooming tubs typically cost more than $500 and often have stainless steel or porcelain finishes.
When choosing a dog grooming tub, you have to consider your pet's needs and your budget. There are many different grooming tubs, and prices range from $50 – $1500. If you do not want to spend too much money, you can find a perfect dog grooming tub for less than $200. However, if you want the best quality, you will have to pay more.
Main grooming tubs brands
Flying Pig Grooming
PawBest
VEVOR
Master Equipment
DEStar
SHELANDY
SNUGENS
Furesh
Best grooming tub for large dogs
Flying Pig Grooming 50″ Professional Stainless Steel Pet Dog Grooming Bath Tub with Faucet, Walk-in Ramp & Accessories
The Flying Pig Grooming 50″ Dog Grooming Bath Tub allows you to bathe your dog conveniently and sanitary. Made of rust-resistant 304 stainless steel, it features solid durability and easy maintenance. The drain kit includes a flexible hose and hair trap to prevent spillage. The stainless steel removable overhead arm with loops can be adjusted to accommodate many configurations, while the backsplash and side splashes can be removed for greater versatility and feature waterproof seals when assembled for regular use.
For your convenience, this model comes with free accessories: Tub faucet w/ hoses, sprayer w/ hose, overhead arm, drain kit w/ flexible hose and hair trap, and stainless steel shampoo rack. You'll appreciate the convenience of the two-piece, removable floor grate that can be adjusted to higher or lower levels to accommodate both large and small dogs. The door is easy to open and securely locks closed. Special watertight seals keep water inside the tub when you are not bathing your dog.
SNUGENS 50 Inches Professional Stainless Steel Pet Dog Grooming Bath Tub Station Wash Shower Sink with Faucet Walk-in Ramp and Accessories
The ultimate durability, the stainless steel pet grooming bathtub combines excellent sealing performance and solid construction to stand up to even the most giant dogs. The innovative S-shaped drainage pipe ensures that no unpleasant odors come up from the pipe, ensuring a more enjoyable bathing experience for both you and your pooch! Measuring 27 x 50 x 58 inches in size, this tub offers ample room to bathe larger and smaller dogs alike, with 19 inches and a water depth of 3.5 inches. This bathtub has everything you need to keep your dog happy and clean, complete with a walk-in ramp and faucet, overhead grooming arm, drain kit, shampoo rack, and floor grates.
VEVOR 50 Inch Dog Grooming Tub, Professional Stainless Steel Pet Dog Bath Tub, with Steps Faucet & Accessories Dog Washing Station
VEVOR 50 Inch Dog Grooming Tub: fits for maximum-sized pets (49″L x 25″W x 40″H) and can accommodate different-sized dogs (max.220LB). It is constructed of 304 stainless steel, which does not deform or rust over time, plus the material is scratch-proof. The durable stainless steel dog grooming tub is easy maintenance and clean. A movable door with a secure lock keeps your pet inside the tubs; a space-saving ramp helps your pet walk in or out securely, while a non-skid grooved surface on the ramp prevents any slipping.
According to the ASPCA (
American Society for the Prevention of Cruelty to Animals
), small dogs need more grooming than large ones. According to The Humane Society of the United States, small dogs can be more active than large ones and can thus get dirty faster. Big dogs tend to do the less outside activity because most people use them for protection.
Best grooming tub for small dogs
Furesh Elevated Portable Foldable Pet Dog Bath Tub
Furesh portable dog bathing tub is a durable, lightweight, and foldable pet bathing tub that makes grooming your canine more convenient. The steel frame of the bathtub can support up to 130lb. of weight (including water). The surface is made with premium PVC material that is easy to clean and resistant to wear from paws and claws. The tub has 3-point leash restraint with an adjustable collar, providing added safety and convenience while bathing your furry pal.
This portable and elevated tub allows you to bathe your pet with ease and comfort by providing a stable surface that puts your back and your pet at the right height. It easily folds up for storage and transportation, saving you precious space.
Flying Pig Pet Dog Washing Shower Grooming Portable Bath Tub
The Flying Pig dog grooming tube is a sturdy, lightweight plastic unit with a stainless steel stand. The stand is adjustable to level the basin on uneven floors, and the basin has 360-degree access, offering dogs the ability to enter and exit the shower while standing or sitting.
It consists of a basin, legs, and a brush. The basin is made from heavy-duty plastic and can take up to 150 pounds per its maximum weight capacity. On the other hand, the stand is made from stainless steel, meaning it's rust-resistant.
VEVOR Dog Grooming Tub 38 Inch Stainless Steel Professional Pet Bathing Tub Station
VEVOR dog grooming tub is made of 304-resistant stainless steel, which is sturdy, stable, and has no water leakage. It can hold pets up to 180lbs.
It is designed to hold medium and large dogs while being bathed. It is an anti-slide tub made of professional quality stainless steel with a broad base to prevent tipping over. VEVOR has a convenient design that allows you to easily clean your pet without the tub getting in the way or sliding around. It has a vast application place, and you can place it anywhere at home or even in the salon for business use.
Useful dog shower & bath supplies
Which is the best dog grooming tub material?
This is a question that I'm often asked, and it's not a simple one. It's not just about picking a tub material but also the benefits of each type of medium. You should consider how much you can spend on the tub.
"Plastic is cheaper than metal." This seems like a no-brainer at first—plastic tubs are usually half the price of their metal counterparts. Plastic tubs are also lighter in weight, making them easier to move around the house if you travel with your dog. The pluses end there, though, because plastic has its drawbacks. The biggest is moisture build-up on the inside of the tub. Plastic doesn't breathe; it traps water inside, which could cause mold or mildew eventually. And moldy tubs are no fun for anyone! Also, urine can leave yellow stains on plastic tubs that can't be removed over time.
Stainless steel grooming tubs are easier to clean than alternatives like plastic or aluminum. There are no seams in the tub that could trap dirt or debris, so you won't have to worry about getting the inside of your tub too dirty. On top of that, stainless steel is non-porous, so you don't have to worry about bacteria building up within the crevices.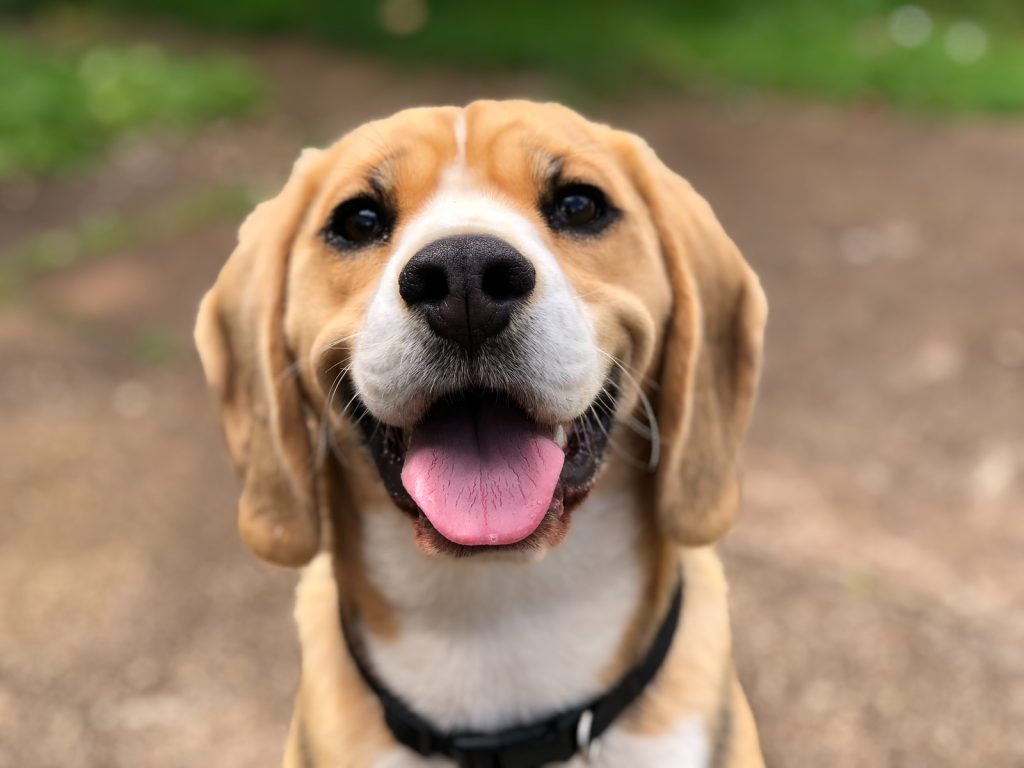 FAQ
How often should you bathe a dog?
The age-old debate of how often you should bathe your dog has no clear answer. The ASPCA recommends bathing once a month. Dog owners, on the other hand, find that frequency to be too infrequent, especially for those dogs who have a tendency to roll in the mud more often than their purebred cousins. Some people even go as far as bathing their dog every time they come back from the park or after an encounter with another animal.
But how often is too often?
The biggest concern is drying out your pet's skin by constantly removing its natural oils. This will cause his coat to become dull, but it can also lead to skin and yeast infections. If your air conditioner or heater is running in the summertime, dogs are even more likely to dry out because they can't cool themselves down as quickly as possible.
To avoid a case of "doggie dandruff," always use dog shampoo specifically formulated for dogs instead of human shampoo, which contains ingredients that can be harsh on your pet's delicate skin and leave behind an odor that some dogs find unpleasant.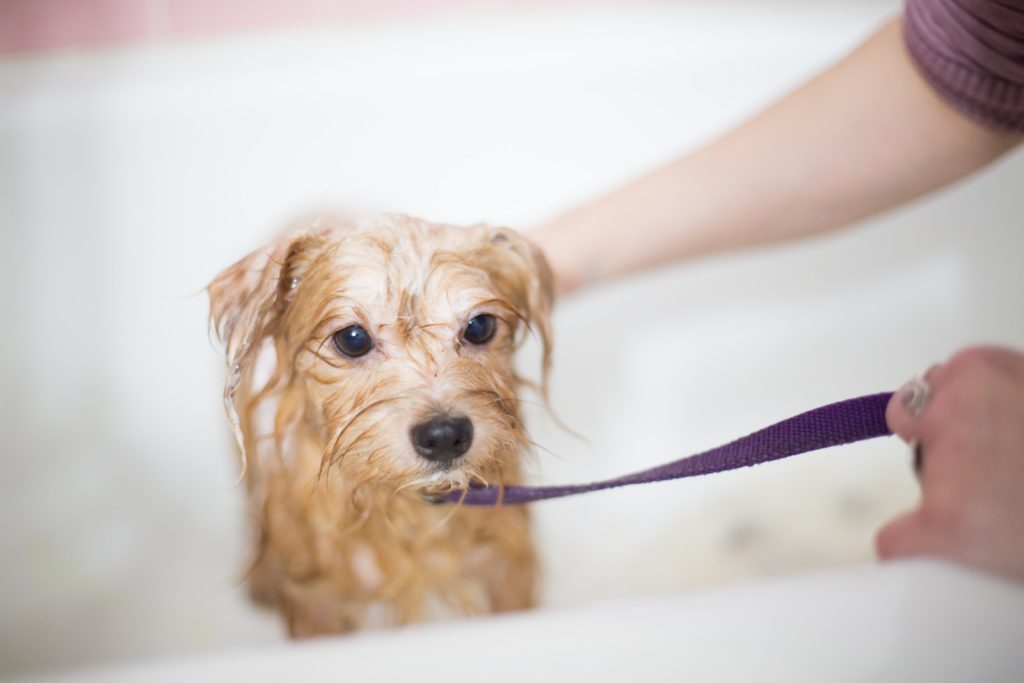 How do I dry my dog after a bath?
After a bath, we all know what happens: the dog shakes off, and you're left wondering how to dry them properly.
The fastest way to get your dog dry is to blow-dry them. Plugin the blow dryer and set it to a low setting, ensuring it's not too close to their skin. Hold it about 12 inches from your dog's fur, with the nozzle pointed down at an angle along its body. Move the dryer back and forth along their body until most of the water has been removed from their fur. It may take some practice to figure out how long it will take for your dog's fur to dry before you need to move on to another part of the body.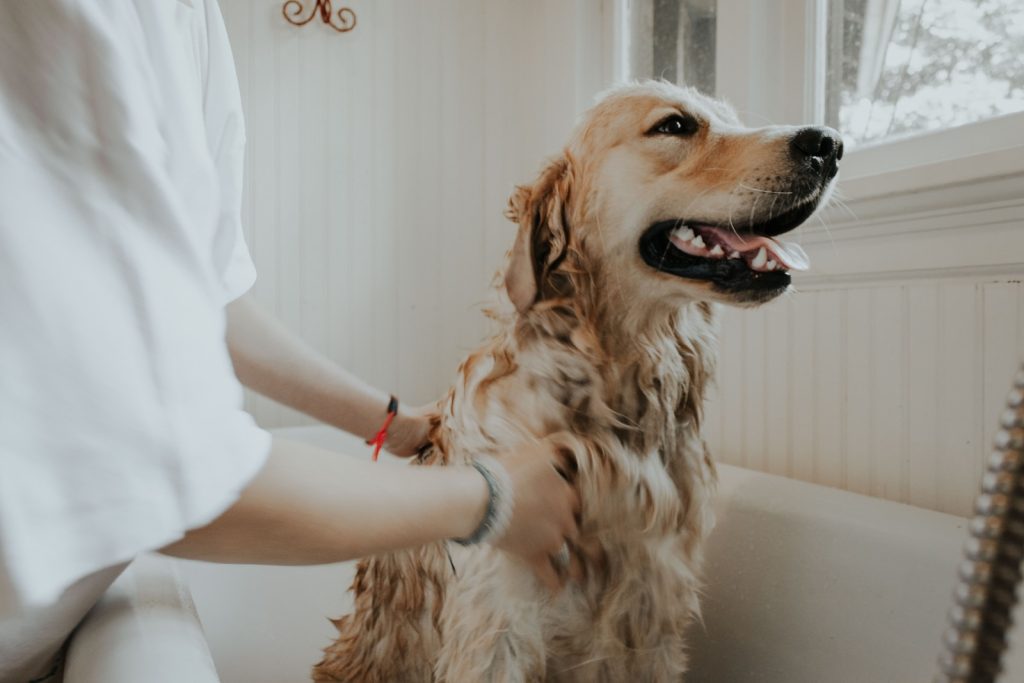 How to make your dog like the dog bathtub?
For some pet owners, it can be challenging to get their dogs accustomed to the dog bathtub. However, with a bit of patience and perseverance, you can teach your dog to enjoy all of the functions of the tub.
Scent it
Making your dog like the tub is to make it smell good! Put some treats in the tub or put some old clothes that smell like you. Also, putting a towel in that smells like you will help get them used to the smell.
Let them play in it
Your dog will start liking the water more as they play in it. The more comfortable playing in it, the more they will probably be comfortable bathing in it too!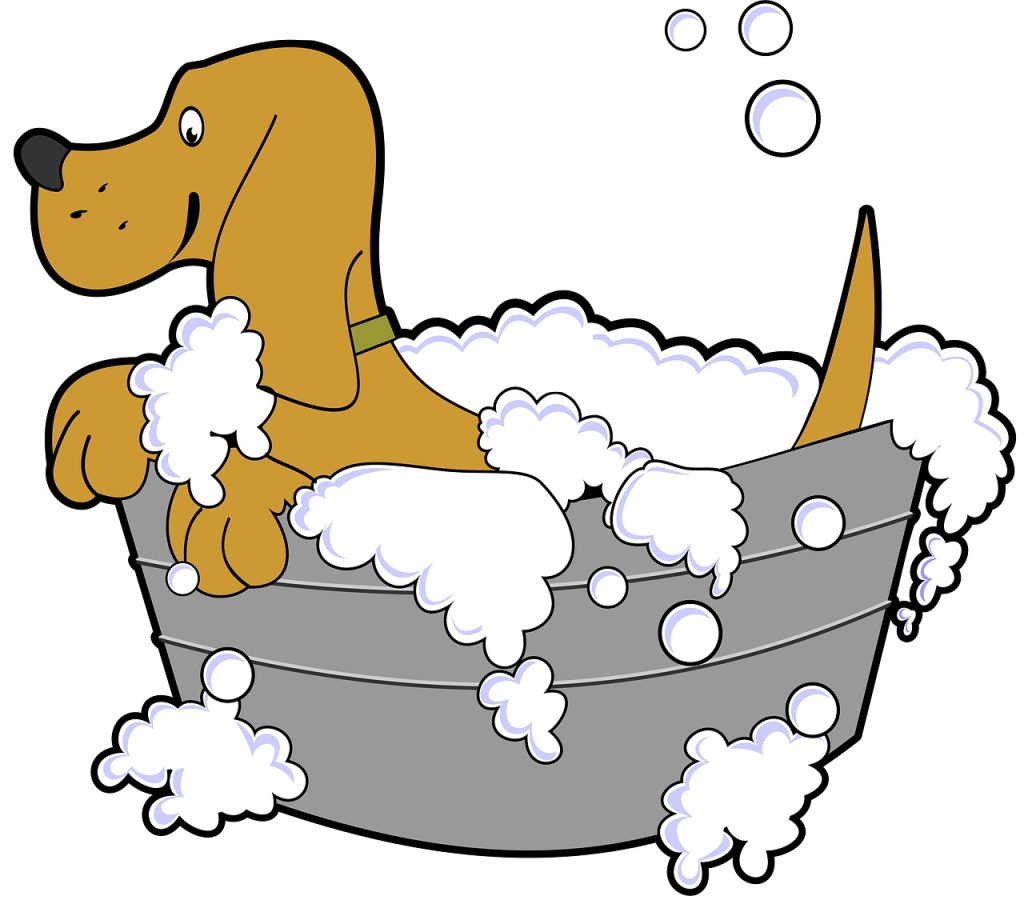 Reward them
If your dog is being perfect while taking a bath and staying calm, give them a treat or let them outside right after. This reward system will make them associate being good during baths with getting rewarded which may make them want to do it again.
Be consistent
Make sure you always provide your dog with baths, even if they don't enjoy them at first. Your consistency will help your dog adjust to the routine and understand that this is something that happens every time.
Why are dog grooming tubs expensive?
The real reason why dog grooming tubs are expensive is that the market is a bit of a seller's market. The population of pet owners is growing, and many of them are willing to spend a lot on good care for their pets.
Most dog grooming tubs range between $100-$1,000, but really they are an investment. This is something you will use year after year.
The price of a dog grooming tub varies based on its size and features, but don't discount the importance of quality! Make sure the model you choose has a strong warranty; otherwise, you'll pay more.
Are dog grooming tubs worth it?
Dog grooming tubs can be an essential part of bathing and grooming your dog. If you are trying to decide whether or not to get one or if you've got one in the past and are wondering whether it's worth it, here are some pros and cons.
Pros:
You can thoroughly clean your dog without getting wet yourself.
Your dog will be more comfortable during the bathing process.
It is easier to bathe tiny dogs with a tub.
Cons:
They can be expensive.
You must have a certain amount of space in your bathroom for one to fit.
They tend to take up quite a bit of room when not used.
The water might drain slowly, so you may need to refill the tub during bath time.
Dog grooming tubs come in all shapes and sizes, but they all have one thing in common—they help your dog get clean. If you're the type of owner who puts a lot of time and effort into grooming your dog, a tub could be an excellent investment. It will save you time in the long run, since bath time will go by much faster with a designated tub, and it will keep your dog healthier in the short run because you'll be more likely to wash her if she has a dedicated space.